Our experienced team will provide you with a custom-designed plywood kitchen that fits your style, space and budget while being made of the highest quality material locally in our North Shore warehouse.
Plywood kitchens installed from $20,000
We cater to retail customers as well as building companies, builders as well as DIY operators.  Our plywood kitchens will transform your space regardless of how you chose to get them installed.  Some of the most common delivery options are: 
Plywood Cabinets For Long Lasting Kitchens​
Creating premium effective storage solutions that add character to your house and improve day to day enjoyment of your property. Plywood Kitchens are modern, solid and extremely resistant to high moisture environments. Coupled with our state of the art hardware and accessories and you will have a kitchen that you can enjoy without worry.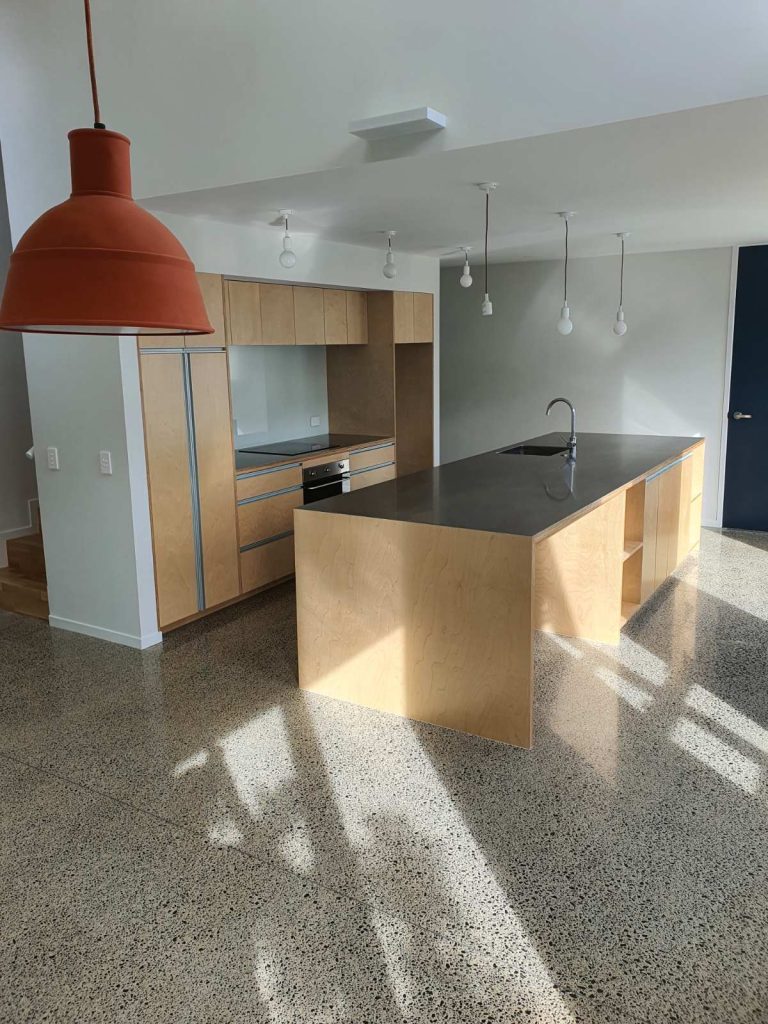 Custom made to your space
FREE designs 
Pre-Cutting site measurement by our team
Moisture resistant material
High quality hardware for draws, hinges and insets 
Cost effective solutions with pre-manufactured sizes available online 
Custom solutions fitting your needs.
Some of your choices in designing your kitchen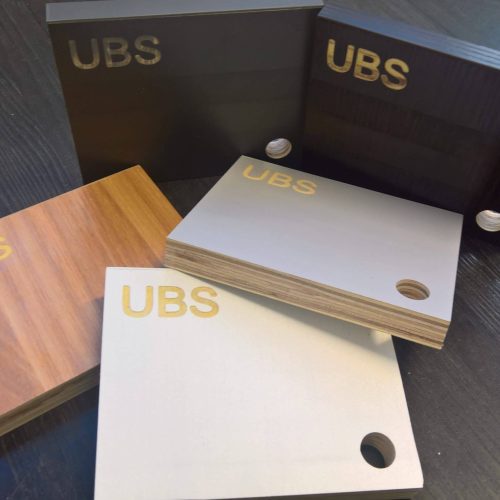 We stock and import a furniture grade assortment of Plywood Panels with Melamine or Wood Veneer finish to suit your project.  Ultimate Building Supplies whole sells and retails our plywood panels so availability and waiting for suppliers stock are a thing of the past as our stock is meters away from our CNC centers.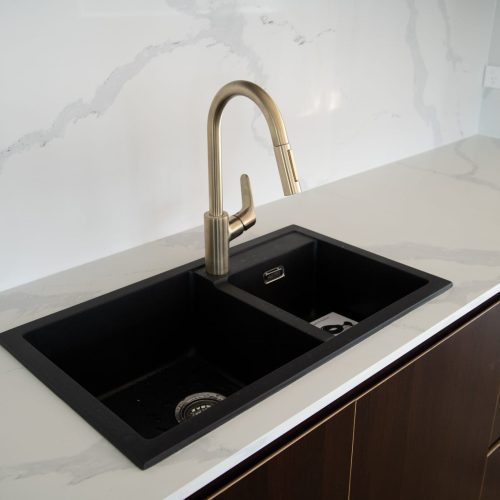 Your kitchen is more than just another room. As the most vibrant and visible intersection in the modern home, it needs to be comfortable to work in as well as functional.  We offer a full series of Granit/Resin sinks with the feel and look of stone and the practicality and durability of the highest grade composites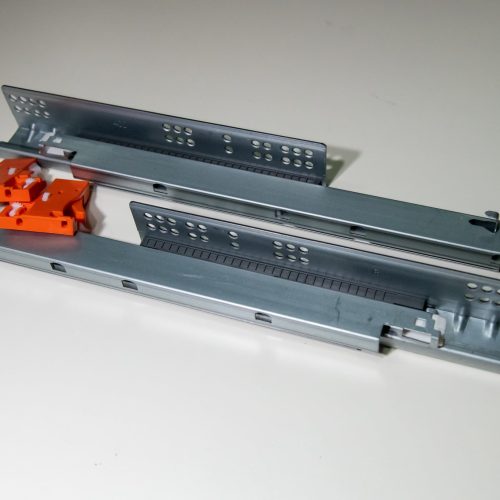 Custom hardware ensures your modern kitchen is inviting to work in and stores the maximum amount of goods comfortably and in an extremely efficient fashion. Our top grade hardware will ensure your space is practical and efficiently utilised without compromising the quality or blowing out the budget.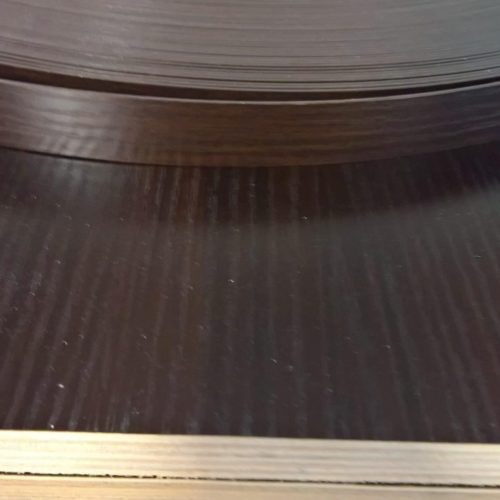 From exposed edge with the natural layered wood showing through for exquisite look and contrast to protected edging with 1.5mm edge tape to maximise impact and water resistance the edge finish you choose will determine the overall feel of the piece.
At Ultimate Building Supplies we don't settle for close enough or those too big for their own good scribeing panels.  We will manufacture each cabinet to exact mm precision dimensions the design calls for. 
NZ Manufactured Here in Auckland​
Our kitchens and cabinets are designed, cut and assembled right here in New Zealand.   This gives you the flexibility of design, quality you expect as well as reliability of supply for our wholesale customers.    Fortunately our automation,  machinery and processes mean that pricing is kept extremely competitive often beating substantially inferior imported product.
DIY & Flatpack Modular Kitchens
Custom size self assemble and install solutions by UBS are ideal when you don't want to compromise on fit or finish but you have the skillset to install and assemble the furniture yourself.  Get the professional result at significantly lower total cost.  For standard sizes have a look at our online store with plenty of ready to buy options. 
Ultimate Quality Kitchens
High quality plywood Kitchens by Ultimate Building Supplies will optimise your kitchen space giving you a practical space to cook and entertain and your house the WOW factor that makes it stand out.   
Top reasons to chose an Ultimate Building Supplies plywood kitchen: 
Plywood is made from layers of actual wood and unlike the compressed dust and glue in other substandard materials will resist mositure damage ensuring your kitchen doesn't swell and change from the inevitable water spillage. 
Melamine Plywood panels are resistant to almost all chemicals as well as not naturally east to stain giving you a surface that is hard to stain and easy to clean/ desinfect. This sounds ideal if you want a safe cooking environment. 
We offer a FREE design service by experienced kitchen designers that have drawn 100s of kitchens for our clients.  This ensures your space is extremely well utilised as well as aesthetically pleasing. 
Ultimate Building Supplies Plywood kitchens are available in the same high quality material and accurate finish regardless if you choose the complete design to install package or you would prefer your kitchen to be picked up from the factory assembled…   Even flatpack is available to builders and DIY customers letting you build your custom artisan kitchen without having to resort to sub standard materials of typical flat pack offerings. 
"UBS were employed by me to build and install a butler's pantry. Antonella and I discussed the design and, once we had agreed on the final drawings, Dushan visited to measure up. It took only 2 weeks for the cabinetry to be built and installed. Marco was excellent throughout the installation process and overcame a few problems to get it all installed. The finishing on the units is first class and I just love the results. I have already received comments on how good it looks. Would definitely recommend using UBS for any cabinetry projects as plywood is certainly superior to MDF and the service I received was great."
"This is our kitchen transformation. Finally we found this company that we've been looking in Auckland area,and they supply good quality of plywood. Great people, really cooperative to work with. Very recommended. Awesome work guys!"
"I looked and looked for a decent kitchen in Auckland at a decent price. Previously, all of my kitchens came from Ikea. Just as I was giving up I found Ultimate Building Supplies and their plywood kitchens. It took four days from paying the deposit to install. That is crazy fast, and the price was better than all but one of the the cheap kitset places. I highly, highly recommend this company. Antonela and Dusan are great — they even arranged to deliver on Easter Friday because I just said "Friday" forgetting it was a holiday.​"
"We have recently refurbished our kitchen with UBS - outstanding service from start to finish and not to mention the hard wearing plywood board, we don't need to worry about blown MDF kitchen anymore! Highly recommended!"
"Great product and service!! And the price is comparable to a kit-set kitchen for a better product. I recommend you check them out"